Updated on 29/05/20
With the spotlight normally falling upon the world's most talented attacking players, it would be easy to forget that the defence is every bit as important in any winning team.
No defence would be successful without a top quality goalkeeper between the sticks.
To that end, we take a look at some of the best goalkeepers in the world that have helped create so many moments of skill and wonder.
And with so many football betting markets on offer, there is no shortage of bets for you to punt on with Novibet.
So why not join us in our countdown of the top 10 best goalkeepers in the world?
10) Pierluigi Gollini
With five clean sheets amassed in 22 games, some could argue that the Atlanta keeper has not done enough to land a position in our top 10 best goalkeepers in the world.
But all you have to do is watch him play and there is no doubt that the 24-year-old possesses the promise and ability to emulate the successes of those who have come before him.
Still in his youth, Gollini has struggled at times, being sold and bought back and forth by different teams. So much so, he even dabbled in music for a while. One scathing review of his tracks uttered:
"the 21-year-old has made more headlines with his musical 'talent' this season than his achievements on the football pitch".
Yikes!
With an 85% pass completion rate, he has been able to confidently play out from the back in a mature manner, well beyond his tender age.
Definitely, an exciting young prospect to grace the Serie A amidst the sticks, yet if his goalkeeping abilities match that of his musical efforts, we may have a problem. Fortunately, it looks like they don't.
9) Gianluigi Donnarumma
The young AC Milan keeper has impressed with his quick reaction saves this season against some of the best strikers in the Serie A this season.
Whether it's the likes of Dries Mertens and Lorenzo Insigne or Cristiano Ronaldo, Donarrumma has consistently come up with the goods.
With 10 clean sheets in 24 games, there is a real sense from within the Milan camp that Donarruma could go on to become the next best thing.
8) Gianluigi Buffon
One of the most experienced, and skilled keepers to grace football now finishes his career with the French giants Paris Saint-Germaine.
And with plenty of spectacular saves and performances notched under his belt at the ripe old age of 42, you can only marvel and applaud.
Yet one clean sheets in 7 performances this season, shows that even with age, Buffon still has what it takes to make our top 10 best goalkeepers in the world list.
It also demonstrates that the clock is ticking and Buffon could see his stellar career come to an end in Paris, with plenty of fresher and more younger options on the market.
7) Samir Handanovic
The 35-year-old has Inter Milan number one has been in fine form once again this season, helping his side climb the Serie A table.
The Slovenian has posted seven shut outs in 22 games played this year, proving himself time and time again.
At 35, you might think that the club will be planning for the day when he hangs up his gloves but that's not something that worries legendary Inter goalkeeper Francesco Toldo who said,
"I am not thinking about a post Handanovic era at Inter because he is still there, he is still young, he is the best goalkeeper in the world, he does not miss a beat "
6) Roman Bürki
For a man of only 1 meter and 87 cm's, Bürki sure knows how to keep the ball out of the net, ranking him sixth in our top 10 best goalkeepers in the world list.
Indeed, his faster and quicker reactions, of around 160 milliseconds, is what makes his shorter self an advantage when it comes to facing some of the best strikers in the Bundesliga.
His quick steps when being approached is what allows him to constantly adjust his position and prepare for shot-stopping modes to be activated.
All in all, Bürki has been a breath of fresh air for Dortmund this season and could cement his position as their first-choice keeper in the build-up to the next season.
5) Marc-Andre Ter Stegen
Aside from a few blips, the Barca keeper has been in good form this season.
Eight clean sheets in 26 games for a club of the Catalan's calibre speaks for itself, and an 83% pass completion rate exposes the club mantra of playing out of the back in a Tikki-takka style.
Indeed Ter Stegen's Champions League performances were the only cause for concern this season, which included a 4-0 larruping at the hands of Liverpool in the second leg of the semi-finals that saw the Reds progress to their second final in as many years.
All in all, while Ter Stegen may boast a stellar enough track-record to play for Barcelona, there are still key mistakes that have cost his side crucial games in the last few years to suggest that he may not be around for much longer if a younger, more skilled keeper crops up on the market.
4) Manuel Neuer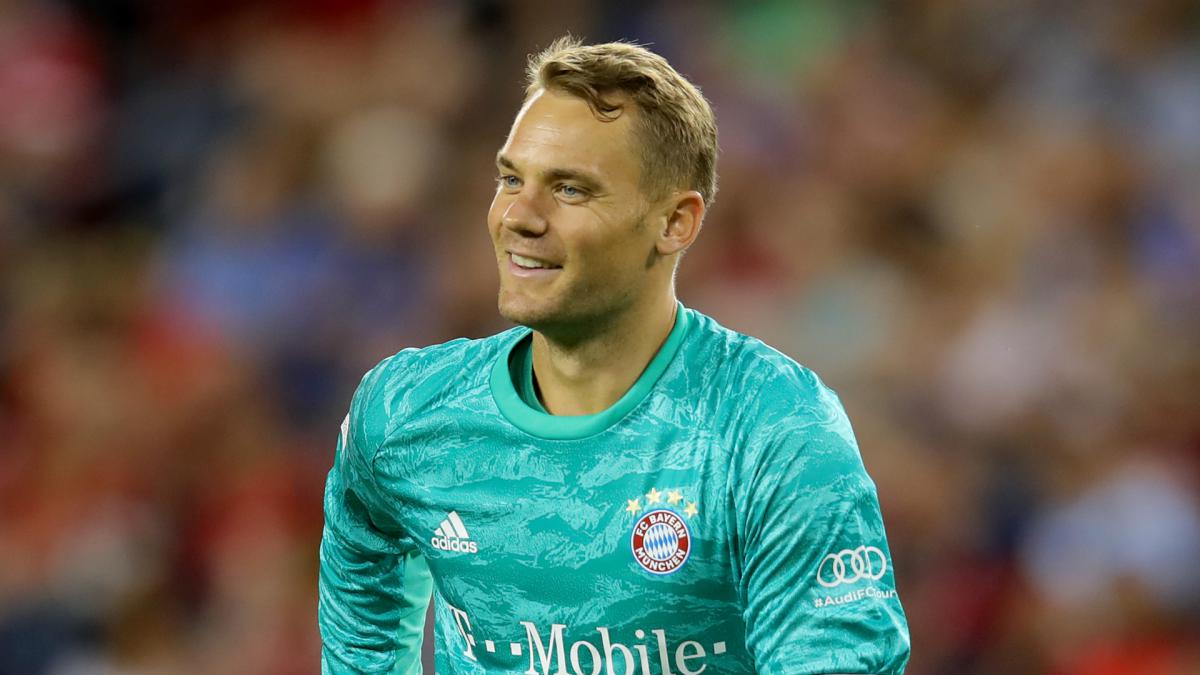 A world champion with seven Bundesliga titles and a Champions League to his name, Manuel Neuer has long been regarded as one of the finest goalkeepers in the world who reinvented and then perfected the sweeper-keeper role.
The 35-year-old Bayern stopper used to be the game's indisputable world number one and at his peak was so good with the ball at his feet Pep Guardiola considered playing him in midfield for a Bundesliga game.
The 2014 Ballon d'Or nominee (he came a respectable third behind Cristiano Ronaldo and Lionel Messi) has been an imperious presence between the sticks for club and country.
Foot injuries continue to plague his twilight years and, while it's true he's not been at his best for a while now, on his day he remains one of the world's finest all-round keepers.
FOCUS! #Predator #createdwithadidas @adidasfootball pic.twitter.com/CjJLeCMFPR

— Manuel Neuer (@Manuel_Neuer) January 31, 2020
3) Ederson
The Brazilian might not have clinched the golden glove this season, but he was part of a treble-clinching Manchester City side that has reached new heights this season.
Ederson himself snapped up 20 clean sheets for the season, racking up 36 in 74 appearances under Pep Guardiola. And thanks to right-back Kyle Walker and the defence too.
However, with rivals Liverpool going one better in the form of Allison Becker, the 25-year-old will have to try his hand at the accolade again next year. And as such, he comes second best in our top 10 best goalkeepers in the world list.
Despite this, the City keeper has still impressed between the sticks, and not just in the goal-stopping department.
Not only did he claim an assist by providing striker Sergio Aguero with a peach of a ball up the pitch earlier on in the season, but his attacking and interlinking passes up the field are akin of that of an outfield player.
Ederson has consistently impressed with the ball at it his feet – something that we hope to see more of next season!
2.) Jan Oblak
The Atletico Madrid man boasts impressive numbers this season with 11 clean sheets in 27 games this season.
Indeed, the 27-year-old has been a rock for his side in between the sticks with a goal conceded only every 128 minutes, assisted by the likes of Diego Godin and Juanfran at the back.
And the defenders aren't the only players who have noticed his skills, Even former teammate Antoine Griezmann couldn't help pointing out:
"He is one of the best goalkeepers I have seen, maybe one of the best in the world".
Continue to operate in this form and there is every chance that Oblak could go on to lead his side to a trophy next season, whether that's the La Liga title, the Copa Del Ray or even Champions League glory.
1) Allison Becker
We present you the number one keeper in the world right now, according to, well…us.
In his second Premier League season, the Brazilian has not only lived up to the hype but also demonstrated it on the pitch despite contesting against the likes of Ederson, Hugo Loris and De Gea.
With a golden glove in the bag from last season, the Champions League winning keeper is on target for a second successive reward having banked 12 clean sheets in 20 games the season. It is very clear why Jurgen Klopp and Liverpool paid big bucks to coax him into coming to Anfield.
Allison has not only consistently delivered in the Premier League, but also in the Reds Champions League campaign.
'That save' against Napoli that would've otherwise sent them out the group stages had the 27-year-old not made a stunning close-range block was the one that lead Liverpool to their sixth Champions League trophy and their first since the 2005 heroics in Istanbul.
With his attacking capabilities matching Ederson's, there is no doubt that he has played a monumental role in the progression of Liverpool's title and trophy charge and deservedly leads our top 10 best goalkeepers in the world list.