Updated on 08/10/19
From the Bundesliga to the Premier League, this season, players have entertained us with a stunning array of goals, involving all types of technique, body part and skill.
We take a look at the top 10 best strikers worldwide, from Madrid to Derbyshire, and back around to Italy.
And there are plenty of players who also slot into the category of current best midfielders in 2019 too.
With so much talent on offer, there isn't a shortage of betting markets to punt on, wagering that these strikers will come up with the goods next season again.
So, without further ado…
10) Karim Benzema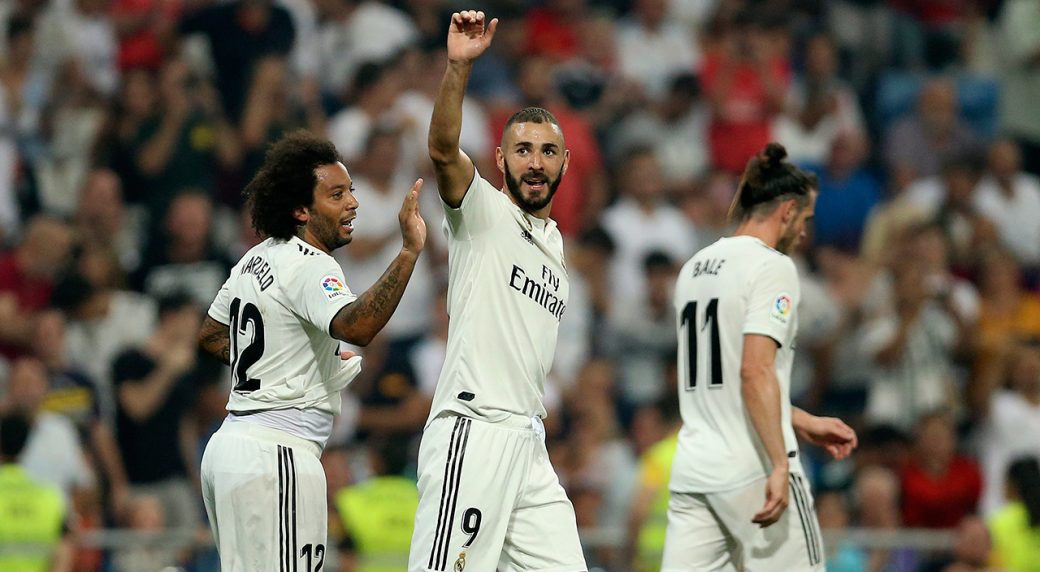 The Frenchman makes up the butt of our list, with 21 goals and six assists to his name this season.
indeed, Benzema's performances have seen him become the top scorer for Madrid at the Bernabeu – he has clinched the best home record in the squad in this vein of form, trumping the likes of Isco and Gareth Bale. And we've seen that in the early stages of the season already.
| Appearances | Goals Scored | Minutes Clocked | Assists | Shots Per Game | Pass Success Rate |
| --- | --- | --- | --- | --- | --- |
| 6 | 5 | 521 | 1 | 3.8 | 87% |
Not only has he scored crucial goals in the La Liga, but also in the Champions League group stages, and the Copa Del Ray.
In the absence of a certain Portuguese striker, the 31-year-old has risen to the task this year, earned crucial points for his side and has been the cause for hope amidst a season bereft of high-calibre team performances.
9) Luis Suarez
Keeping with the theme of the Lia Liga, Benzema's cross-town rivals, Barcelona, have dazzled with players of their own, and one man who has made the most of his circumstances this season under Ernesto Valverde is Luis Suarez.
None more so evident than in the early stages of this season's campaign…
| Appearances | Goals Scored | Minutes Clocked | Shots Per Game | Pass Success Rate |
| --- | --- | --- | --- | --- |
| 4 | 3 | 326 | 2.5 | 74% |
The Uruguayan has often had to work in the shadows of Lionel Messi, Neymar and now the likes of Ousmane Dembele – yet he continues to graft away, coming away from this season with an impressive 21 goals and six assists.
Indeed, it was Steven Gerrard who spoke about Suarez in a nutshell:
"I don't think anyone ever looks forward to playing against Luis Suarez, he is a fantastic talent and a very dangerous player. He is a fantastic team mate, probably the best player I have played with."
He has repeatedly come up with the goods when asked, whether that's in the Champions League against his former employers – Liverpool – or in the Copa Del Ray semi-final against rivals Real Madrid.
The 32-year-old's drive, dribbling and determination on the ball makes him a worthy pick in our top 10 best strikers worldwide.
8) Cristiano Ronaldo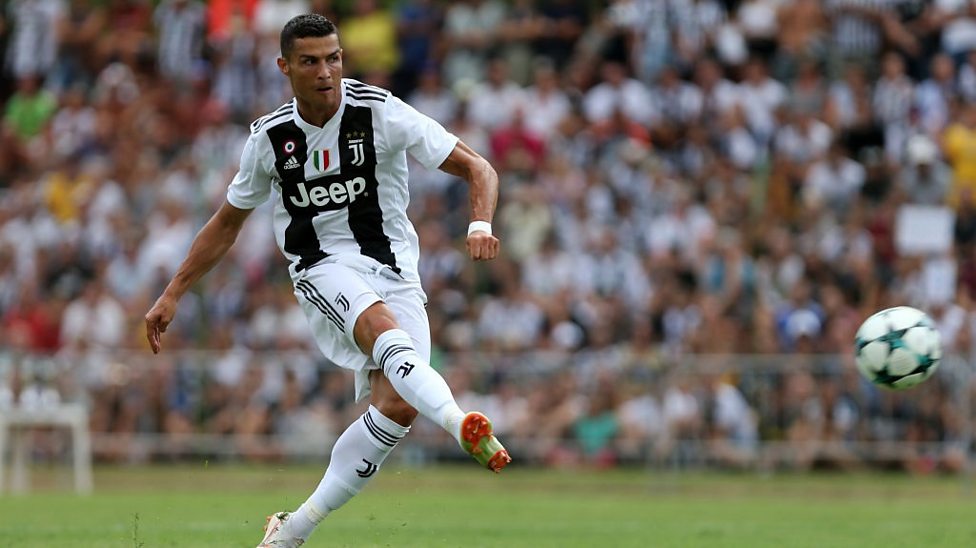 Life after Madrid has been good for Ronaldo.
The Juventus striker has wasted no time in starting his career with the Old Lady with a bang, netting 21 goals paired with eight assists.
And he's off to the same prolific start this season:
| Appearances | Goals Scored | Minutes Clocked | Assists | Shots Per Game | Pass Success Rate |
| --- | --- | --- | --- | --- | --- |
| 5 | 3 | 450 | 1 | 5.8 | 80% |
Despite being usurped in the Serie A goalscoring tally by Duvan Zapata and Fabio Quagliarella, Ronaldo has been the go-to man whenever his teammates have called upon him.
https://twitter.com/BestrikeNg/status/1130840282398961666
Whether it's the Champions League quarter-finals or tight Serie A games, he is the man for big occasions.
Yet, alas our top 10 best strikers worldwide only sees him rank in the eighth position. Instead, we make the journey into Premier League territory…
7) Pierre-Emerick Aubameyang
The Gabonese striker shared the golden boot with two other strikers of African descent in Sadio Mane and Mohamed Salah, after tieing with the Liverpool duo on 22 goals for the season.
And it was a goalscoring campaign for the forward that Arsenal fans won't be forgetting in a hurry…
| Appearances | Goals Scored | Goals Per Match | Assists | Shooting Accuracy |
| --- | --- | --- | --- | --- |
| 36 | 22 | 0.61 | 5 | 43% |
Indeed, the Gunners forward is in a rich vein of form, with his last four appearances across all competitions resulting in one assist, six goals and two man-of-the-match accolades – one claimed for his hat-trick against Valencia in the Europa League semi-finals and the other for a wonderful league performance against Sean Dyche's Burnley.
And with five assists to his name, whether he acts as goalscorer or provider, he always plays a hand in Arsenal's goals – a fitting attribute given that his next game will be against Chelsea in the Europa League final.
6) Robert Lewandowski
Lewandowski has been instrumental in Bayern Munich's title and Champions League hopes this season.
Aside from his 22 league goals – two of which he scored in a dramatic 3-2 win over Werder Bremen and keep his side ahead of Dortmund in the title race – the 30-year-old netted eight goals in eight Champions League appearances.
And that's not without the aid of Joshua Kimmich and David Alaba – defenders-cum-attackers.
Were it not for Jurgen Klopp's Liverpool dismantling Der FCB over two quarter-final legs, led by the German, Bayern could've reached the latter stages of the tournament.
His drive and determination has been impressive…
"I want to be a better player and there is no way of showing it than on the pitch"
Although they may have bottled their chances in that particular competition, Lewandowski and co clinched another Bundesliga title last season.
And his form in the early stages of this season suggests another goal-busting campaign:
| Appearances | Goals Scored | Minutes Clocked | Shots Per Game | Pass Success Rate |
| --- | --- | --- | --- | --- |
| 6 | 10 | 510 | 4.8 | 71% |
That would definitely make him a worthy contender in our top 10 best strikers worldwide countdown.
5) Duvan Zapata
The Sampdoria loanee has been turning heads this season at Atlanta, and our top ten best strikers worldwide countdown would go amiss if we hadn't mentioned his goalscoring heroics.
With 22 goals and seven assists to his name, Zapata was explosive in the first half of the season, scoring freely with defenders unable to effectively mark him.
And the scorelines reflected this…
Duván Zapata volvió a convertir: Udinese 3 Genoa 0: https://t.co/Evu8S1SzUu #GolesCO #Duvan #SerieA #Udinese pic.twitter.com/8cqde5DBnK

— Goles Colombia (@Goles_Colombia) April 25, 2017
Despite a downward trend ensuing since the Colombians dribbling and finishing abilities means he remains just as threatening in front of goal now as he was in Agust.
All the evidence suggests that this season could be just as prolific for the striker:
| Appearances | Goals Scored | Minutes Clocked | Assists | Shots Per Game | Pass Success Rate |
| --- | --- | --- | --- | --- | --- |
| 5 | 5 | 457 | 1 | 4.8 | 71% |
But next up we have a man who took things up a notch…
4) Mohamed Salah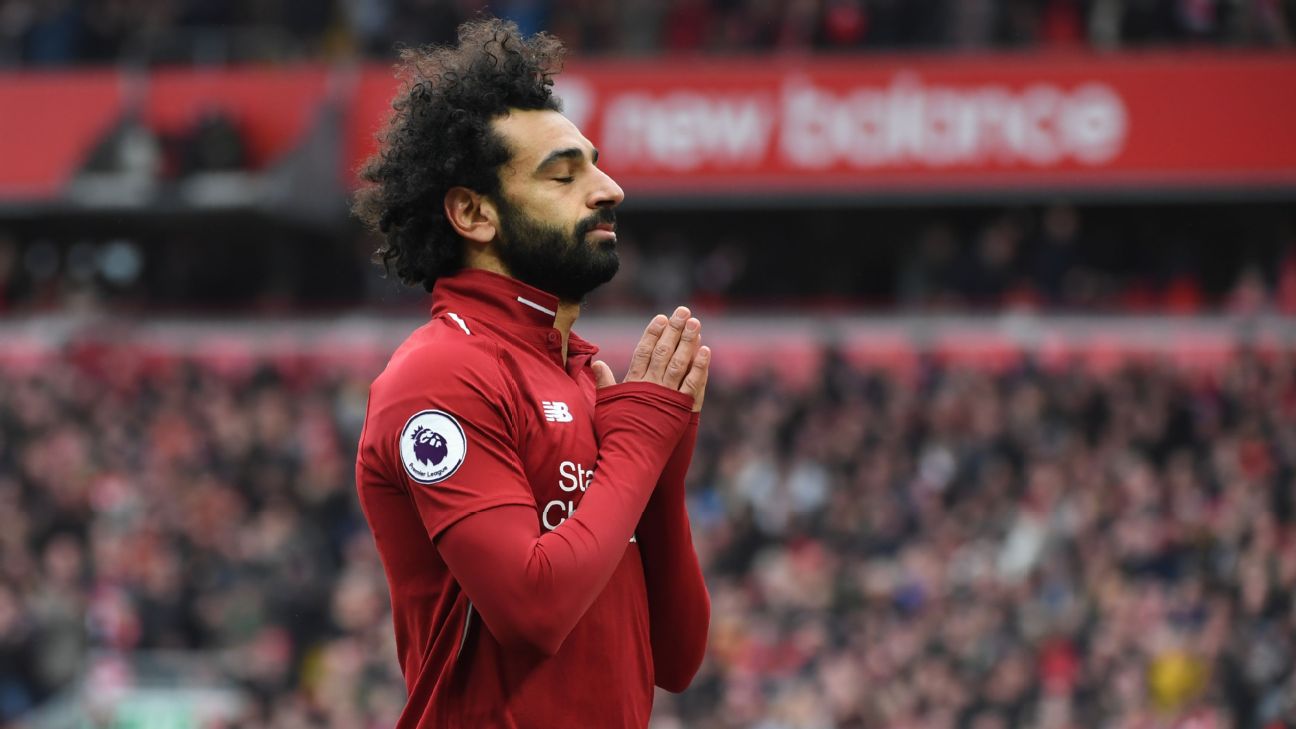 The man that Merseysiders call the 'Egyptian prince' led the golden boot charge for the majority of the season, yet the last day of the Premier League saw his teammate Mane and Arsenal's Aubameyang join him on the pedestal.
And while it may not be as explosive as during his first season with the Reds, it was still an amazing season:
| Appearances | Goals Scored | Goals Per Match | Assists | Shooting Accuracy |
| --- | --- | --- | --- | --- |
| 38 | 22 | 0.58 | 8 | 47% |
The Liverpool forward bagged 22 goals this season, but more importantly eight assists that have seen the likes of Mane, Roberto Firmino and even Gini Wijnaldum profit from his stellar passing skills.
What's more, Salah has scored important title and Champions League-swaying goals for the Reds, including four European competition goals and that would-be crucial goal against Rafa Benitez's Newcastle.
Given that the 26-year-old has clinched consecutive golden boots, all evidence suggests that he and Liverpool will achieve bigger and better things next season.
3) Fabio Quagliarella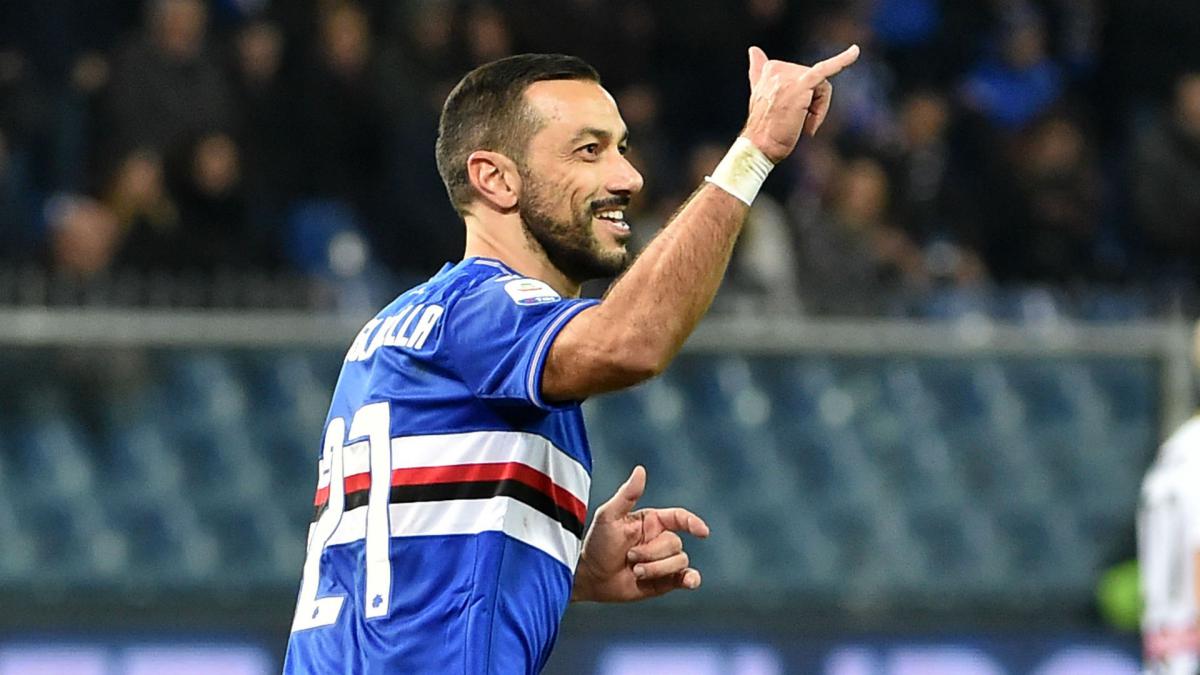 The man who denied Ronaldo and Zapata the chance to clinch the Serie A golden boot features in third place in our top 10 best strikers worldwide countdown – Sampdoria's hottest prospect, Quagliarella.
26 goals and eight assists across this season has meant that his side have slipped up into ninth place, after a bit of slump at the beginning of the season.
Even his manager couldn't help mentioning:
"He's on fire this season, we couldn't have asked for more"
Indeed, his crucial brace and man of the match performance against Parma and Genoa earned them that final standing.
And the stats that Quagliarella has racked up in the early stages of the season suggests a similar campaign unfolding:
| Appearances | Goals Scored | Minutes Clocked | Shots Per Game | Pass Success Rate | Assists |
| --- | --- | --- | --- | --- | --- |
| 5 | 1 | 442 | 3.8 | 68% | 0 |
With plenty of clubs sniffing around, Sampdoria would do well to keep a hold of their star player.
2) Teemu Pukki
This season's Championship has been one rollercoaster ride after another with plenty of players impressing with their skill and individual brilliance, and yet Norwich's Teemu Pukki is definitely the creme of the crop.
29 goals and nine assists in a league since his appearance featuring the likes of Tammy Abraham and Mason Mount has seen his side achieve promotion to the dreamland that is the Premier League.
https://twitter.com/norwichcityfc/status/1013014581193605120?lang=en
Under Daniel Farke, the Finnish striker has rekindled his goalscoring form and has been in red-hot form in the early stages of the Premier League.
Lo and behold…
| Appearances | Goals Scored | Shots Per Match | Assists | Shooting Accuracy |
| --- | --- | --- | --- | --- |
| 7 | 6 | 0.86 | 2 | 68% |
Continue to play as he is doing with the Canaries and there's no doubt his side will be causing more upsets as they did against the champions Manchester City.
1) Lionel Messi
The man leading our top 10 best strikers worldwide list is none other than Lionel Messi – were you really expecting anyone else?
Indeed, just as Ander Herrera uttered…
"I'm not sure if Messi is human'.
Neither do we Ander, neither do we.
34 goals and 13 assists this season, 12 goals in the Champions League alone featuring that stunner of a free-kick against Liverpool, 50 goals in 55 appearances…the stats really speak for themselves.
| Appearances | Goals Scored | Goals Per Match | Assists | Shooting Accuracy |
| --- | --- | --- | --- | --- |
| 34 | 36 | 1.2 | 13 | 90% |
And despite his Champions League failings, with another La Liga title wrapped up, it looks as if there's no stopping the Argentinian.
Until the Barca forward decides to hang up his boots, the love affair with goals will continue.